While Rice didn't quite have the season they envisioned in 2010, one couldn't blame their sophomore third baseman Anthony Rendon, who put up a .394/.530/.801 line with 26 home runs and a ludicrous 65:22 walk to strikeout ratio.
It's not too often that a college sophomore gets honored with his own day. But Houston Mayor Annise D. Parker recently declared June 29th, 2010 as "Anthony Rendon Day". And let us not forget, Gentleman Lincoln Hamilton named his projection system after Rendon. But is he just another metal bat super star, or does the hype actually match the tools?
I almost didn't get through that last line without laughing. Of course he is legit!
I contacted our old friend, Mr. Veteran Scout, to see what his thoughts were on Rendon:
Rendon has a lot going on here. He has knack [for hitting] foremost. He does have a good swing in the game. Gets the ball deep. He can hit. Has always hit. Even when he was little. Has some ego that he will have to over come but he projects to be a plus hitter with plus power. Has a plus arm and solid glove. Just not a good runner. Possibly the best bat in country.
Well, I'm sold. But let's take a look at what makes him "possibly the best bat in the country".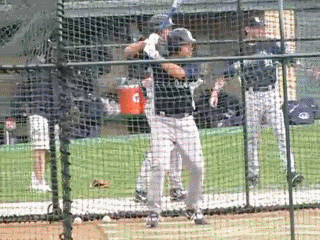 Great googa-mooga!
Upper Body
If you've ever wanted a visual example of how to whip the barrel, I give you Exhibit A. Rendon is also a great example of "early bat speed". He gives his barrel an earlier start than most hitters, which allows him to build up bat speed before he launches his swing. Because of his ability to accellerate the barrel so quickly, Rendon is also able to wait longer than most hitters before he has to commit to the pitch. While some players are unable to reach max velocity with the head of their bat until well after contract, Rendon's early bat speed means his barrel will be up to speed quicker and more efficiently. He has more useable bat speed than most players.
Rendon swings with outstanding aggression, and, for all his moving parts, is still consistent in his timing and launch position. With the running start -- that he he gives himself by tipping the barrel -- he can get to any fastball. He also has a built-in resistance/hesitation move with his hands that allows him to stay back and still hammer off-speed pitches.
He tips his barrel to get it moving but also has a late elbow and hand raise movement that is the trigger to start his swing. This allows Rendon the ability to look fastball and then simply resist with his hands in order to stay back on anything that spins.
Rendon does a very good job of keeping his hands near his shoulder while tipping the barrel pre-launch. And when it comes time to launch, his hands immediately get flat and get forward at the same time -- no wasted movement or leaking forward pre-launch which saps efficiency, timing, and bat speed. Once Rendon commits, he gets his hands forward quickly and on plane with the incoming pitch. He has a good amount of lateral tilt in his shoulders and some lift in his hand path, helping him get loft on the ball, and lets his strength and bat speed take care of the distance.
Lower Body
Rendon has figured out the rare art of gathering over his rear leg while still incorporating plenty of forward momentum and getting a good weight transfer. The toe-tap may concern some, but if you look closely, it actually works wonderfully with his hand raise trigger that I mentioned earlier. Rendon starts open and tips his barrel as he strides back to a neutral position to get his first toe tap. He then proceeds forward with his second tap while simultaneously performing his hand raise trigger.
It may look complicated and unique, but he is a unique talent. His toe-tap and hand raise trigger shouldn't be a hindrance as he moves forward, especially since it helps fine tune his internal timing as well as puts him in a position to create and control his plus bat speed. Every piece of movement Rendon incorporates into his swing has a purpose, and they all tie together wonderfully. Nothing is out of sync and each movement helps make the previous or future movement that much more efficient. The sequencing of his swing is outstanding.
The hand raise trigger and toe-tap also help him create separation between his upper and lower halves in a natural and easy movement. It wouldn't surprise me if Rendon never had to "learn" how to achieve separation in his swing; there's a good chance that he simply "fell into it" by working on his load/trigger and lower body timing. Regardless of how he learned it, Rendon's form of free and easy separation along with his hand actions help create one fine tuned hitting machine.
Defense
Rendon isn't the fastest runner in the world, but he has more than passable agility for the hot corner. His strong arm and very solid glove should keep him there long term, and make him a possible above-average defender in the process. Rendon's body type doesn't look to be concerning and his strong chest and shoulders should give him a solid wall of mass to help knock down the well struck balls he'll have to defend at third base.
Concerns?
I laughed at that one too. There is no such thing as a "sure thing" in prospectdom, but Rendon is almost as good as it gets. He is adept at making adjustments on the fly and utilizes video of opponents to seek out any weaknesses they may have -- something young players often don't learn to do until well down the road. There is a tiny bit of length in his swing, but that really is nitpicking. That is sure to be shortened up and fine tuned has he continues to fill out and strengthen his hands and wrists.
Speaking of those wrists, one other player that had fantastic wrists came to mind when watching Rendon hit.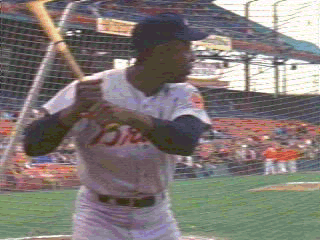 And that isn't even a case of writer's hyperbole. Someone else very close to Rendon had the exact same thoughts.
Isn't to say that Rendon is the next Hank Aaron, but those wrists only come around so often.
Closing Thoughts
To reiterate what Veteran Scout said earlier: "Plus power, plus hit tool, plus arm, solid glove" and a mechanically fantastic swing to boot. On top of all that, he adds in outstanding patience at the plate. He doesn't just dictate the at-bat the second he walks into the box, he rules it with an iron fist. Rendon has a great understanding of the strike zone, is disciplined, and has the swing built to optimize pitch tracking, quickness and raw bat speed. He has everything needed to be an all-star level player in the Major Leagues and has earned every bit of his candidacy to go No. 1 overall in the 2011 draft.
*Note: Today we learned of Rendon's gruesome ankle injury at the Team USA trials in Cary, NC. Best wishes to him for a speedy and full recovery.
Check out Part II where I go more in depth on the sequencing of Rendon's movements and try to explain how and why everything in his swing works so fantastically well together.
Steve Carter can be reached on Twitter or at stevecarterpp@hotmail.com