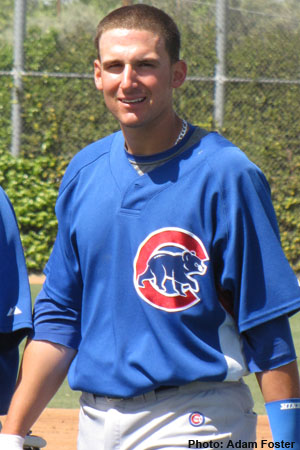 With Brett Jackson and Ryan Flaherty both recently promoted to Triple-A, heading out to the ballpark was one of my top priorities last month. Iowa (Cubs) was playing Oklahoma City (Astros). Sorry Astros fans, but unless you're pinning your hopes on Koby Clemens or Luis Durango, there wasn't much to look at.
Brett Jackson
http://www.youtube.com/watch?v=DJfBEl6RyQk&feature=related
On almost every single pitch he saw, Jackson looked balanced and dialed in. He has very little head movement and doesn't expand his zone much, which helps explain his high walk tendencies. His bat speed is smooth and requires little effort, which speaks again to his natural strength and quick twitch.
He showed easy plus speed on the base paths and made the cuts around first and second base very smoothly. It may seem trivial to point out something so small, but the tiniest amount of feet-chopping around a base can slow a runner just enough to get thrown out.
Defensively, Jackson wasn't challenged but he showed quick instincts and reactions to the balls hit his way. He only had one opportunity to show off his arm, but he held a runner at third and cut his throw down to make sure he hit the cutoff man. His arm action was excellent and even though it was a short throw, you could see the ball had good carry and flight. It's hard to give a grade based on seeing a tiny morsel of his arm strength, but it was at the very minimum average for center field. It wouldn't surprise me to find out that Jackson had a pitching background in high school.
Jackson didn't waste any time against Oklahoma City starter Brad Hennessey, jumping on the first pitch he saw and driving it off the wall in left-center for a double. He then stole third base easily against former prospect J.R. Towles. He showed good lift in his swing plane and nice wrist action. Jackson's swing was easy and smooth, which one would come to expect if you've seen him enough. In his next at bat, he just missed a home run, flying out to deep center field on a fastball from Hennessey. Jackson caught it near the end of his barrel, but his strength and bat speed showed by him driving a mishit 395 feet. In his third at bat, Jackson hooked a down-and-in fastball down the right field line for a triple.
The last at bat I saw from Jackson was the one I really wanted to see. It's not a secret that strikeouts are the main mark against Jackson's game, and I wanted to a glimpse at how some of these strikeouts came about. Was he a guy who maintained the same approach 2-0 as he did 1-2, or did he battle and spoil? The last at bat I saw resulted in a strikeout, but I was impressed by his ability to reach and foul off close pitches in a effort to get a cookie to come his way. Strikeouts are always going to be a part of what he does, as a tiny loop and some length in a swing will do that to a guy, but his mix of pop, patience, and discipline while manning center field doesn't come around too often.
Ryan Flaherty
http://www.youtube.com/watch?v=-3f40REN6To
I had a pretty good idea of what to expect with Jackson. Flaherty, on the other hand, is a guy that has been a bit harder to find good looks on. I've been impressed by what I've seen on video and statistically, and had a feeling I wouldn't be disappointed in seeing him live, but prospects have fooled once before.
Flaherty looks to be every bit of the 6-foot-5 220 pounds he's listed at but he still looked like he could fill out a bit more in his upper body without getting top heavy. In the field and at the plate, Flaherty moved athletically and didn't look stiff in any of his actions.
In his first at-bat, Flaherty popped out to the left fielder on a 3-2 fastball, but what happened on the previous pitch was what impressed me. Up 3-1 in the count, Flaherty swung for the downs and popped a fastball foul. I'm always looking to see what adjustments a young player makes mentally at the plate, and one thing that drives me a little bit nuts is when a player is afraid to go for it -- sans the ones who need to just focus on hard contact, looking at you Ben Revere. Two outs, early in the game, up 3-1 in the count? I say go ahead and go for it. Flaherty letting it fly, and I couldn't really care about the result, was what I wanted to see.
In his next at-bat, Flaherty showed something else I wanted to see, his raw power. It was extremely humid this night, and most balls weren't carrying well. It didn't matter for Flaherty, as he hammered a fastball over the center field fence a solid 426 feet (Click the link for a different angle, courtesy of Milb.com.) Take note of his barrel action in the MiLB.com video. That's some legitimate whip and snap through the zone. Players who can do that tend to stick around in this game for a long time.
In his third at-bat, and the last I saw of the night, Flaherty turned on an inside fastball and lined out to the right fielder. There is a bit of length in his swing, but not a dramatic amount. If he fill out in his upper body more, that could help him tighten his swing a bit and make him more compact. Flaherty has consistent balance, and though I didn't see him drive anything the other way, his swing plane is conducive to full plate coverage and I don't see a reason why he couldn't cover the outer half well. The biggest thing for him will be how he covers the inner half at the next level. With his long arms, slight dive toward the plate during his stride and the previously mentioned swing length, he's a candidate to get pounded inside by Major League pitchers. Flaherty has quick hands, but how he covers the inner half will determine if he's a solid average-doubles hitter, or a guy who can burn you if you come in. If he adjusts properly, he has the bat speed, strength and swing plane to top the 20 home run mark.
Defensively, like Jackson, Flaherty wasn't challenged, but he did have a couple double play opportunities. A super-utility type, Flaherty played six positions while at Double-A but was at second base this night. He showed soft hands on the balls hit his way, and he was decently quick on the transfer during double plays. He came from a very low arm slot on the turn and showed slightly below average arm strength on these throws. If he came up from a normal 3/4, I think his throw would have a bit more zip. Flaherty's foot speed seemed a bit below average for the position. He has very large feet and his tall frame isn't built for lateral quickness. I think he profiles best defensively at third, where he could bulk up a bit and have to worry less about the quickness required for second. It is important to note that a good amount of his value is tied up in his versatility.
Final Thoughts
Overall, I was very impressed by both prospects. Jackson showed me the tools you'd expect to see from a former first round pick, and Flaherty showed the solid across the board skill set that could make him a very valuable asset in the Majors. I don't feel either profiles as a superstar player, but Jackson has borderline All-Star level talent and Flaherty has the tools and skills to play in the big leagues for a long time.
Follow Steve Carter on Twitter or you can reach him at stevecarterpp@hotmail.com