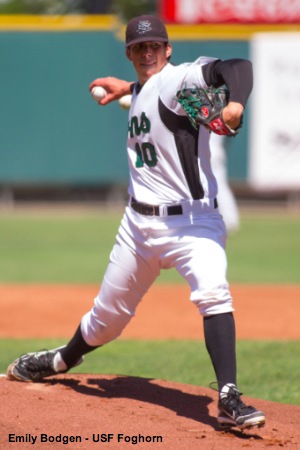 The title says we've done this before. Let's take a look at the next group.
Kyle Zimmer - RHP - University of San Francisco
You can make a compelling argument that Zimmer should be included in the draft's elite. Working 93-96 MPH with his fastball and featuring a devastating power curve, Zimmer has as good an arm as anyone in the class. He compliments his fastball-curveball combo with a changeup that should be big-league average as well as a slider that shows some promise, if only occasionally, and a cutter. Zimmer is an aggressive, strike-thrower who's only walked 4.72% of batters this spring and he's as good an athlete as you'll find in this draft - including position players.
His delivery is simple with a short, repeatable arm action and showcases his explosive athletic ability.
All that is true. If your team drafts Kyle Zimmer, you should be excited as you'll be getting a potential front-of-the-rotation stud. Guys with 65 FB and 65 CB grades with above-average control don't grow on trees.
But let me bring up my slight hesitation with Zimmer: humeral retroversion. Without getting too geeky, the basic idea is that overhand throwing is not a motion naturally suited to the human body. Elite, high velocity pitching forces the arm into odd, unnatural angles. The human body is really cool and can adapt, however these adaptations are best done gradually over the course of many years.
Zimmer, a converted infielder, didn't become a full-time pitcher until last season. Converted position players have higher injury rates. Their bodies weren't forced to adapt during adolescence to the stresses of pitching. Their arms aren't as used to the weird angles pitching places them in. Add in how hard Zimmer throws and that's a lot of stress his arm hasn't had to handle before. You don't want to run into the gym and start bench pressing 300 lbs. That, in essence, is what Zimmer is doing with his arm. It's not his fault but it is, as suggested by the current best biomechanical research, a significant red flag.
Albert Almora - CF - Mater Academy (FL)
At 6-foot-2, 175 pounds Almora has some room to fill out physically. He's currently only an average runner but a strong arm and plus instincts should yield defensive value in the long-term.
It's hard to write about Almora without using the words "wiry" and/or "explosive". So what the heck, Almora's wiry strength and explosive hips make power an offensive asset. He probably won't lead the league, but 20-25 home runs annually is well within reach.
Without some alterations to his swing his damage will have to come off heaters. Despite all the good, exciting things Almora does, his swing is still very arm-heavy. The swing is still compact and Almora is explosive enough to generate plus bat speed but his specific move may be a determent to his timing. The longer you can hold your hands back, the longer you can track the ball. Almora may have a hard time letting the ball get deep. Pitcher's with good change-ups could give him fits, until he adjusts.
If everything breaks right, Almora's a center fielder with two-way value and possible All-Star upside. There's a fairly high probability he's still a big leaguer, even if he falls a little short of his best case scenario, and that mix is enough to make Almora a likely Top 10 pick.
Richie Shaffer - 3B - Clemson University
Elite college hitters tend to be the safest bets on draft day, unfortunately the 2012 Draft has one of the weakest crops in recent memory. Don't blame Richie Shaffer, he's done his part. The Tigers' third baseman is currently hitting .339/.479/.583 with as much offensive upside as any hitter in the draft.
Shaffer's strikeout rate is borderline for a college slugger (17.1%), but I feel that stems from his approach more so than being a significant mechanical issue. He gets pitched around some in the Clemson lineup and feels the need to try and hit the ball 600 feet whenever men are on base. Whenever Shaffer doesn't try to do too much and focuses on line-drives up the middle it's baseball porn. Hips and hands, balance, bat speed...I could go on, but I'll just say it's all there.
A big guy, Shaffer is officially listed at 6-foot-3, 205 pounds but might be a little taller than that. He can put on a show in batting practice, displaying impressive raw power. Long levers lead to long swings and that's the biggest reason why Shaffer is still much better when he focuses on the gaps.
Playing mostly third base at Clemson, Shaffer also has experience at first. He'll likely add some mass as he matures and could lose half a step defensively, forcing a move off of third where he's already borderline. But first base is a waste of his strong throwing arm. Gun-to-my-head I'd say Shaffer ends up in right field and is an average defender there. With his calling card being his bat, Shaffer is the best bet of any college hitter to hit in the middle of a big league lineup.
Courtney Hawkins - OF - Carroll High School (TX)
Even though player's careers unfold in only one way - we'll hold conversation about reincarnation and parallel universes for the comments - when forecasting future performance it's important to think about the whole range of possibilities. The probability distribution of Courtney Hawkins' likely future outcomes would be very heavy on the tails. If he hits, he'll be a stud. If he doesn't, the outlook is much less rosy. There's not a ton of middle ground.
Hawkins has bat speed for days and stupid raw power. He's 6-foot-2 and already 210 pounds. He's a little thick, but muscular and a good athlete for his size. He's an average runner with a plus arm. Hawkins could an above-average defensive right fielder.
But with Hawkins it's all about his hit tool. When everything clicks, he does brutal things to baseballs. Currently Hawkins has a bit of Pedro Cerrano disease - "Straight-ball I hit very much. Curveball, bats are afraid." Dead-red approaches get eaten alive by advanced pitchers. His ability to make adjustments on breaking balls will determine his future. Encouragingly, there have been positive reports about Hawkins this spring, that he's improved his balance and approach.
Committed to the University of Texas, Hawkins is reportedly eager to sign and could go as high as the single digits for a slightly below-slot price tag. Drafting Hawkins will be a lesson in risk tolerance. There's a lot of boom-or-bust in his prospect profile, but if he booms you just found yourself a cleanup hitter.
Andrew Heaney - LHP - Oklahoma State University
He's not the biggest or strongest pitcher in the draft but Andrew Heaney has a rare combination of traits that will make him sought after on draft day.
His fastball sits 90-92 MPH, occasionally running higher. His curveball is a potential plus pitch and should buckle the knees of many a left-handed hitter. Heaney also shows excellent feel for a low-80's changeup with late tumble. This strong three-pitch mix comes with plus command. Heaney has only walked 4.9% of batters faced, while whiffing 31.1%.
Heaney's motion is low effort, smooth and repeatable. His arm circle is short, efficient and leads to good timing. Despite being a 6-foot-2, 175 pound string bean, Heaney's strong mechanics give him some workhorse potential.
His strikeout-to-walk ratio is nearly 7-to-1. Heaney has been as dominant as any pitcher in college baseball this spring. Southpaws with above-average arm strength, three average-to-plus pitches, plus command, smooth arm actions and a track record of dominance are hard to come by. Heaney could sneak into the Top 10, if he falls into the middle of the first round he'll be an excellent value as a high-floor, potential above-average starter.